Physician Employment Agreements
Are you having disagreements with your employer?  Do you feel like you are walking on egg shells every day you show up to work?  Sometimes, the job you thought was your "dream job" can turn out to be your worst nightmare.
Conflicts with employers are not uncommon and you are not alone. 
A physician's primary responsibility is to the welfare of his or her patients.  A physician also owes his or her employer a duty of loyalty.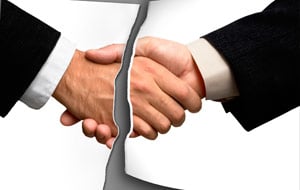 These divided loyalties can sometimes lead to conflict, which include financial incentives to over- or under- treat a patient.  You should be free to exercise sound, independent judgment when treating your patients and making referral decisions without fear of being retaliated against by your employer.  You should also not fear that your actions in asserting these interests will be deemed in breach of your employment agreement.
Physicians should be wary of any contractual provision that limits or interferes with your right to exercise independent judgment on the welfare of your patients.  For example, provisions that require you to use the hospital's laboratory services (where you have received better results from a third party service provider) are problematic.
Physician Conflict Resolution –  The Physician Contract Lawyer can help you resolve this conflict by reviewing your employment agreement to ensure that you perform your contractual obligations but at the same time protect your exercise of independent judgment.
As a physician, are you facing a contractual dispute or would you like to renegotiate your contract? We can help protect you and ensure that your interest is represented.
There are other reasons for conflicts with employers.  It can be as simple as your employer requiring you to take more "on call" hours than what you previously agreed to.  It can be that your employer decides to not pay you your incentive bonus for the next few months because "business is poor" despite your right to earn and receive such bonus. Or perhaps you do not believe that you have enough back office personnel to help you with your billing and other burdensome administrative obligations?
Physician Contract Renegotiation – Whatever the disagreement, the Physician Contract Lawyer can review your employment agreement to determine what rights you may or may not have.  The Physician Contract Lawyer has experience in resolving these disputes by negotiating with your employer to achieve a mutually desirable outcome.  He can negotiate directly with your employer or their legal counsel while keeping you fully informed of the status of negotiations. Sometimes, the negotiations will lead to an amendment to your existing agreement to memorialize in writing your new agreement with your employer.
Partnership Agreements
The Physician Contract Lawyer also has experience in resolving partnership agreement and practice group disputes.  Too often medical groups are formed without the input of a lawyer. A careful lawyer will draft a partnership agreement that will determine the rights and obligations of its partners.  Issues that often arise include the following:
The partnership agreement fails to disclose how the partnership will dissolve in the event that one or more partners desire to leave the group;
The partnership agreement does not accurately describe the distribution of profits and/or the sharing of expenses;
The partnership agreement does not address how to include a new equity partner;
The partnership agreement fails to provide a mechanism to remove a partner for conduct detrimental to the group; and
The partnership agreement does not provide for a method to value the limited partnership interests in the event a partner wants to retire and sell his interests to the group.
The failure to address these issues at the inception of the partnership can lead to increased expenses when these issues materialize.  These issues can disrupt a group's practice and they often surface at the most inconvenient of times.
The Physician Contract Lawyer has experience in drafting partnership agreements and resolving conflicts among partners regarding such agreements.  He also has experience in drafting amendments to partnership agreements to settle these issues to the satisfaction of all those involved.
* indicates required fields

Houston | Dallas | Austin | San Antonio
Physician contract lawyer providing services in Texas and throughout the USA.